All About Hemp-Derived CBD Isolate
What Is CBD Isolate?
CBD isolate is the most concentrated form of CBD available on the market, testing up to 99% pure CBD. By comparison, most CBD products like capsules and tinctures contain only up to 50% CBD per serving, depending on the strength of the product. CBD isolate is a crystalline white powder, that resembles powdered sugar. CBD isolate does not contain any other cannabinoids or terpenes that are found in hemp and cannabis plants. For this reason, many people view isolate as "incomplete," or even useless. There is a never ending debate about full spectrum CBD, and some people don't find isolate to be nearly as effective than products with additional cannabinoids (THC, CBN, etc). For individuals who are extremely sensitive to THC, CBD isolate can be a great option. Everyone is different, and it's worth noting the potential benefits of using CBD isolate.
How Can I Use CBD Isolate?
CBD isolate is arguably one of the most diverse CBD products currently available on the market. While tinctures or capsules can only be ingested internally, CBD isolate can ingested, used topically, or dabbed. Isolate is typically the least expensive CBD product, because it doesn't require any other ingredients to cut the potency. Isolate is oil soluble, which means it can be dissolved into most carrier oils (coconut, olive, almond, hemp, jojoba, etc). Once the isolate is dissolved into oil, you now have a CBD oil that can be used for cooking or for making your own skin care products. You can make your oil as concentrated as you want, and there is no shortage of ways to use your CBD oil.
CBD Isolate Dosage
CBD isolate dosage can seem complicated at first, because the powder is so concentrated. A single gram of isolate contains approximately 1,000mg of CBD, and a small pinch contains about 25mg of CBD. A pinch is not an exact measurement, so isolate may be tricky to use for someone who requires an exact dose. Everyone needs a different dose of CBD, so you will have to speak to your doctor to find out what dose is right for you!
Dabbing CBD Isolate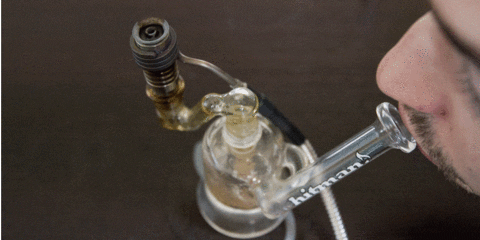 For those of you who aren't familiar with dabbing, it's basically what all the cool kids are doing these days. Dabs are taken using a dab rig, which is a water pipe that has a special bowl called a nail. The nail is heated with a blow torch to extremely hot temperatures, which vaporizes various cannabis concentrates. Most people who are dabbing are doing so with highly concentrated THC extracts, which contain anywhere between 50%-90% THC. Even a mild concentrate is double the potency of cannabis flowers, which contain anywhere between 10%-30% THC. Dabbing CBD isolate has recently gained popularity, because CBD does not cause the same extremely intense highs associated with THC concentrates. CBD dabs can be an effective way to get relief from aches and pains, as the full effects will set in 15-20 minutes. This is much faster than ingesting CBD, which can take up to 2 hours to reach the full effects.
CBD isolate dabs are not for everyone. A simple dab rig can be costly, and not everyone is comfortable with the idea of using a blow torch and a fancy bong to get th. The long term effects of dabbing have not been studied, and while you are vaporizing instead of smoking, it still can be harmful to your lungs. While working in the hemp CBD industry, I typically would not recommend isolate to individuals who had never dabbed before. If you don't have a dab rig, you can still use CBD isolate by dissolving it into a carrier oil. This does require an additional step, and there can be a little more work involved in figuring out your correct dosage.
CBD Isolate Oil for Cooking & Topical Products
CBD isolate can be easily made into an oil for cooking and skin care products by gently heating your oil and stirring in the isolate until it is dissolved. For a basic oil, mix 1 gram of isolate into 10oz of a carrier oil. Each ounce will contain 10mg of CBD. If you want a more concentrated oil, you can dissolve 1gram of isolate into 4oz of oil. Each ounce will contain 250mg of CBD. This will all depend on how concentrated you want your oil, depending on if you are ingesting the oil or using it to make a CBD salve.
Buying Quality CBD Isolate
It is always important to purchase quality CBD products, and this is especially true for CBD isolate. When buying isolate online, make sure you are purchasing from a company who posts test results for each batch of their isolate. If not produced properly, there can be heavy metals left in the isolate. CBD isolate may still contain trace amounts of THC, so be advised you can still test positive on drug tests even if a company claims there is no THC in their products. Never purchase from a company who claims their product can cure or treat any disease. Any company who makes claims about their products are not trustworthy, and are likely trying to prey on ill individuals.